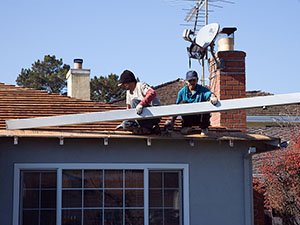 Looking to have a new roof installed on your home in Lee's Summit, MO? The team of professionals at Blue Rain Roofing will deliver a flawless installation in a timely manner so you can be sure your home can be protected with confidence all season long. A new roof installation doesn't have to be an overwhelming process, but we understand how it can be if you hire a team that's not prepared to do the job right. When you trust your roof to the team at Blue Rain Roofing, you can rest easy knowing you and your roof are in the finest hands around and we'll make sure you always have a dependable roof atop your home. Reach out today at (816) 358 – 7663, we'll be happy to provide you with a free, detailed estimate for your new roof!
Roof It Right from the Start!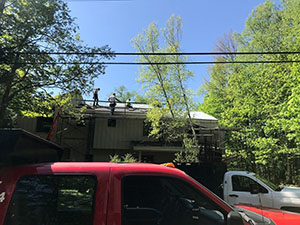 At Blue Rain Roofing, we know the success of a roof starts with the installation and that's why we work to ensure every roof we install is done so flawlessly. If your roof is carelessly installed, then it will be destined for an early replacement which is a waste of your time and money. We do things right from the start, no matter the size of your roof or the complexity of the job, we handle all jobs with the same professionalism and attention they require to ensure things are always done to last. When you trust your roof with us, you can be sure things are always being done the right way, every step of the way.
Keep It Fresh!
Once we've installed your new roof, we will make sure you know the optimal ways to help it succeed long into the future. The best way to make this happen is with our customizable roof maintenance plans. These budget friendly options can be tailored to fit your needs perfectly while ensuring your roof can stay in peak performing condition throughout its life. Keep your roof in prime condition year after year with the professionals at Blue Rain Roofing!
Call Today
When the time for a new roof on your home has come, you'll be able to take a breath of relief when you call on the professionals at Blue Rain Roofing. We make it easy anytime you have a roof in need, for service in Lee's Summit, MO, call today at (816) 358 – 7663.