Keeping your home or business fully protected requires more than just attention to your roof. While your roof is your first line of defense, having a proper drainage system is very important.
Your gutters work together with your roofing system to protect your building from the elements of nature. The gutters divert rain away from your home or business, protecting the foundation from excess moisture. Making sure gutters are properly installed is crucial to preventing very expensive problems down the road.
Residential and Commercial Gutter Services
When your gutters are not in proper working order, major issues can occur. A proper gutter system will reliably direct the water away from your building.  It also protects your fascia and siding, reducing the incidence of wood rot and potential need for premature replacement.
In fact, gutters are so important that many lending institutions won't provide a loan on a property without an adequate, functioning gutter system in place!
When you work with our team at Blue Rain Roofing & Restoration, we offer many different gutter services including:
We can help with virtually all types of siding.
Installation (5-inch and 6-inch)
Repairs
Replacements
Seamless gutters
Leaf-Free gutter systems
Cleaning (with roof maintenance plan)
And more!
Gutter Covers
One valuable way to make your gutters less labor-intensive is the addition of a gutter cover.  There are 3 primary options on the market for your consideration and we provide all of them.

Gutter Screen.  The gutter screen is the simplest, and most affordable of the gutter guard cover.  This is a standard level of protection.  Though it will reduce the risk of clog development, the gutter screen does require ongoing maintenance and will need to be cleaned annually for best performance.

Gutter Guard.  A gutter guard is an upgraded level of protection.  Rather than a simple screen, the gutter guard offers a more durable design and higher performance.  Requiring less maintenance than a gutter screen, this option will need to be cleaned/maintained once every 5 years.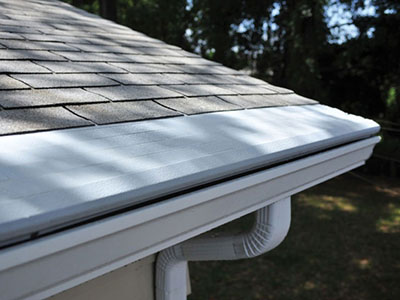 Gutter Helmet.  The gutter helmet is the top-of-the-line in gutter protection.  Though the most expensive option, the gutter helmet offers a clog-free, lifetime warranty.  If you want zero maintenance, zero headaches and zero concerns, the gutter helmet is the best choice for you.
Gutters, Siding, Windows and More
Blue Rain Roofing & Restoration installs, maintains, cleans, and services all types of gutter systems.  Additionally, you can count on us for all of your siding, window replacement, roofing and other home improvement projects. Please call our gutters specialists today at (816) 358-7663 to discuss your project or to schedule a free consultation.