Your home should be your favorite place.  You should feel comfortable and relaxed.  If your windows are broken, drafty or simply need an update, it can be hard to fully enjoy the home.
Not everyone values the importance of windows like the Blue Rain Roofing & Restoration team.  We understand how important they are to bring in natural light, monitoring your children playing outside, or simply relaxing with a cup of coffee.
Benefits of New Windows
There are few home improvement projects that offer so many benefits, while maximizing your return on investment, than new windows.
Here are just a few benefits you will enjoy starting immediately upon completion.
Increased Security.  Older windows can be difficult to open.  They may be rusted or even painted shut.  This is dangerous!  Should a fire develop, those windows could be your only escape option.  Installation of new windows remedies this problem, allowing for full functionality.
Less Dust/Allergens.  Drafty windows allow dust, pollen and environmental contaminants or allergens into your home.  New windows, with a better fit and tighter seals, reduce this issue measurably.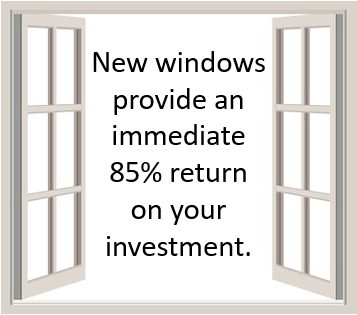 Improved Energy Efficiency.  Just as those drafty windows let unwanted materials in, they also let your heat and cooling out.  You pay good money to keep your home comfortable; don't let it just drift out the window!
Reduced Noise.  With options like triple-pane glass and insulating frames, there is no need for you to be bothered with traffic sounds.  These options improve your quality of life by offering more restful sleep and reduced noise pollution within your home.
Increased Home Value.  Whether simply wanting to improve value or considering putting your home on the market, adding new windows to the home increase the value and the curb appeal.  This combination can lead to a faster sale with a higher price.
Not Only Windows, but Gutters, Siding, Roofing and More…
With the value Blue Rain Roofing & Restoration clearly puts on windows, it should be no surprise we maintain such a great reputation for our services.
We know windows can be a pricey item and not everyone is comfortable with the full price outlay all at once.  For this reason, we have partnered with home improvement lenders.  These online lending options offer financing options, term choices, no pre-payment penalties options and other financing structures.  The application is free, and funding can occur as quickly as 72 hours.  For more details, or to put in your application, please go to our financing page.
The application is available not only for window replacement, but gutters, siding, roofing and any other home improvement project you may be considering.
Blue Rain Roofing & Restoration is here to serve you and your family.  Our dedicated team is available to answer any questions or to schedule your no-obligation consultation.  Please call us today at (816) 358-7663 to learn more.