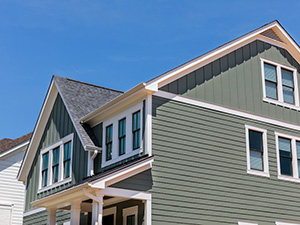 When an emergency strikes, every second counts. That's why you need a reliable emergency roofer you can trust. Look no further than Blue Rain Roofing & Restoration in Greenwood, MO! We are your go-to experts, ready to provide rapid response times and top-notch emergency roofing services. With our swift action, exceptional skills, and commitment to your satisfaction, we can provide the solutions you need. Contact our crew today at 816-358-7663!
Our Emergency Roofing Services
Leak Detection and Repair: A leak can cause significant damage to your building. Our skilled team will swiftly locate the source of the leak and provide immediate repairs to prevent further water intrusion and protect your property.
Storm Damage Restoration: Severe storms can wreak havoc on your roof, leading to missing shingles, hail damage, or even structural issues. We offer comprehensive storm damage restoration services, including emergency tarping and temporary repairs, to secure your property until we can conduct permanent repairs.
Fallen Tree or Debris Removal: If a tree limb or debris has fallen onto your roof, it's essential to remove it promptly to prevent further damage and safety hazards. Our team will safely remove any obstructions and assess the extent of the damage, providing efficient solutions.
Emergency Replacement: In some cases, a roofing emergency may require an immediate roof replacement. Our experienced roofers will assess the situation, offer expert advice, and work swiftly to install a new roof that exceeds your expectations.
Why Choose Us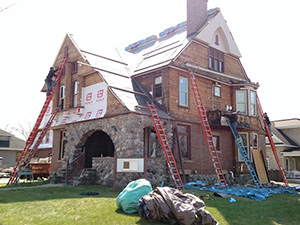 Rapid Response: We understand the urgency of roofing emergencies, which is why we offer prompt emergency services. Our team is available 24/7, ready to address your needs and provide immediate assistance when you need it the most.
Skilled and Experienced Roofers: Our skilled and experienced roofers have handled many emergencies. We have the knowledge and expertise to handle any roofing emergency with precision and efficiency.
Quality Workmanship: We take pride in our workmanship and deliver top-notch quality in every project. Our commitment to excellence ensures that your needs are met with the highest standards of craftsmanship and professionalism.
Customer Satisfaction: Your satisfaction is our ultimate goal. We strive to exceed your expectations by providing exceptional customer service, transparent communication, and reliable solutions.
Contact Us Now
When it comes to emergency roofing services in Greenwood, MO, Blue Rain Roofing & Restoration is the name you can trust. Thanks to our rapid response times, skilled team, and dedication to client satisfaction, we are your top choice. Contact us at 816-358-7663 to learn more!