Severe weather can strike when you least expect it, leaving your building susceptible to damage. If your property has sustained storm damage, then you can count on the experts at Blue Rain Roofing & Restoration in Gardner, KS, to provide the support you need. Our dedicated team specializes in restoring buildings impacted by storms, ensuring your safety, comfort, and peace of mind. Reach out to us today at 816-358-7663 to get started!
Understanding the Impact of Storm Damage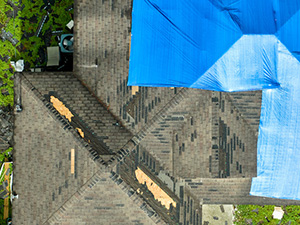 Storms, including heavy rain, hail, wind, and even tornadoes, can wreak havoc on your building, especially the roof:
Hail: Hail can cause dents, cracks, and punctures in roofing materials, leading to leaks and structural issues.
Wind: Strong winds can lift shingles, expose vulnerable areas, and even tear off parts of the roof.
Water Infiltration: Leaks and water infiltration can lead to mold growth, rot, and compromised structural integrity.
Debris Impact: Fallen branches and debris can damage the roof's surface, leading to leaks and other potential hazards.
Why Choose Us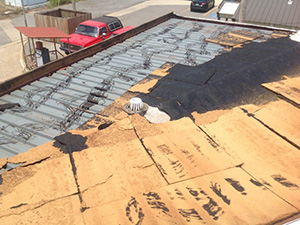 When it comes to storm damage restoration services, our team is your reliable partner. Here's why you can trust us:
Rapid Response: We understand the urgency of repairs. Our team responds promptly to assess the situation and prevent further damage.
Comprehensive Evaluation: Our experts conduct a thorough inspection to identify all areas of damage and develop a tailored restoration plan.
Experienced Professionals: With years of experience, our team is equipped with the skills and knowledge to repair various types of storm damage.
High-Quality Materials: We use top-quality materials that ensure the longevity of our repairs.
Efficient Restoration: Our team works diligently to restore your building efficiently, minimizing disruptions and allowing you to return to your normal routine as soon as possible.
Storm Damage Restoration Process
When you choose our crew to help, you can expect a streamlined approach:
Contact: When you call us, we'll schedule an assessment at your earliest convenience.
Assessment: Our experts will inspect your building to assess the extent of the storm damage. This helps us develop a comprehensive restoration plan.
Customized Solutions: We'll present you with a personalized restoration plan detailing the necessary repairs and estimated costs.
Restoration: Our team will commence the restoration process, addressing all areas of damage with precision and care.
Final Inspection: We conduct a final inspection to ensure that all repairs are completed correctly.
Contact Us
Here at Blue Rain Roofing & Restoration in Gardner, KS, we understand the challenges that come with storm damage. Our mission is to restore your building and ensure you are protected. Don't hesitate to call us at 816-358-7663 for more details!