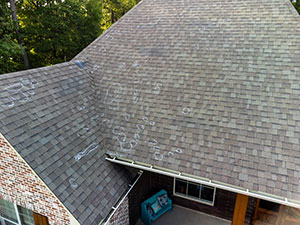 Hailstorms can pose a threat to both you and your property. Hail is very damaging, and it can wreak havoc on your commercial roof. Property owners need to address their hail damaged roof as soon as possible to avoid larger problems in the future. If your building is in Gladstone, MO, the team at Blue Rain Roofing & Restoration is ready to repair your roof damage. Call us today at 816-358-7663!
Effects of Hail
Hail damage typically looks like cosmetic damage. However, the damage done to your roof is not always visible to the untrained eye. For example, even pea sized hail can cause considerable damage.
Hail can cause issues such as soft spots on your roof. These soft spots are difficult to see, but it means that the materials underneath have been weakened and are no longer safe. Hail can damage seals, dent aluminum, break roof tiles, and in the most severe cases, even create holes in your roof.
What To Do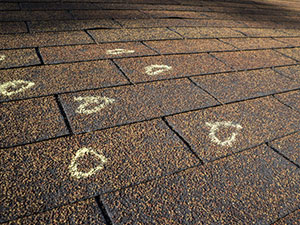 When a hailstorm is approaching your property, the first thing you need to prioritize is safety, including you, your family, and your employees. If you suspect a hailstorm may strike in the following days, you can even pre-schedule an inspection with us.
However, we understand that hailstorms can arrive with no warning. In these cases, the best thing to do is to call us after the storm passes. We'll visit your commercial building as soon as it is safe. We'll conduct a thorough inspection of your roof and provide you with an estimate to review before we start any repairs. This gives you the chance to approve the work as well as the cost before we begin.
Once everything is agreed, then we can begin addressing any damage caused by the hail. In these cases, insurance is very helpful. We can help you prepare and submit your insurance claim. This will help you fully cover the costs of repairs, or at least reduce your out-of-pocket expenses.
The damage can range in severity. Sometimes, you may only need a few repairs, while in other situations, you may require a complete replacement. We'll give you the information you need to make a wise decision.
Contact Us Today
If hail has damaged your roof, call a certified roofing company immediately for help. Leaving damage unaddressed can cause much larger problems in the future. Blue Rain Roofing & Restoration in Gladstone, MO, is here to help! Call us today at 816-358-7663 to get started.