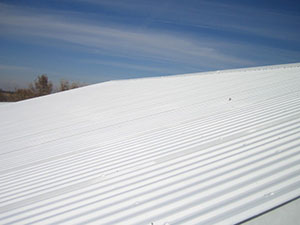 If you've been wondering if there's a solution that can help you get more years out of your tired commercial roof, we're happy to tell you that there's a great chance a roof coating could help restore your current roof and put off a roof replacement for years! At Blue Rain Roofing, we work to keep your existing roof around for as long as possible, but we'll only recommend investing in it if it makes sense to do so. If a roof's condition doesn't warrant a restoration, we'll make sure you know your replacement options. When you trust your roof to us, you can be sure you'll be getting honest answers and solutions regarding your roof and our team will always have your best interest at the front. We're here to help more of our customer's in Olathe, KS save money and hassle and we're proud to say our roof coating services do that and more! Reach out today at (816) 358 – 7663, we'll gladly provide you with a free estimate for your next roof coating service!
Is It Worth It?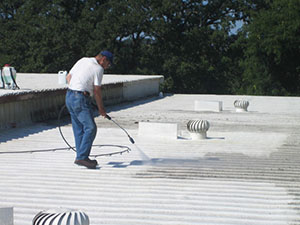 Roof coatings, also known as roof restorations, have been a leading service in the roofing industry for decades. With an incredible list of benefits, this cost-effective roofing service can help your roof perform like a new roof for years and it can also help your roof and building become more energy efficient! We are happy to recommend this roofing service to the majority of our clients as they have so much to offer and can truly help you get the most from your commercial roof! With our professional roofing contractors flawlessly applying your new roof coating, you can be sure you have a watertight roof that's ready to keep you protected for years down the road! Get an estimate on a roof coating, call our office today!
Call Us Today!
With winter right around the corner, why put off making sure your roof is ready to last confidently all winter long? Blue Rain Roofing will let you know the exact state of your roof after we inspect it and if we believe your roof could benefit from a roof coating, we'll let you know! We deliver quality roofing solutions throughout Olathe, KS, give us a call today at (816) 358 – 7663.