Following a maintenance program means your roof will last longer and means you will spend less on repairs over time. Maintaining your roof is the best strategy to keep it in excellent condition for a longer period of time. Do you have a building, home, or commercial space in Lee's Summit, MO? Get in touch with Blue Rain Roofing and Restoration today at (816) 358-7663.
Signs that Your Roof is in Need of Repair
Water leaks are the most obvious sign that you need to get your roof repaired. Whether you have a hole in your roof, weakened seams, or your roof flashing has been damaged, leaks will occur. Your property will incur more issues if a leak is not fixed immediately. Even a small leak will cause your roof to decay, the very structure of your building to rot, and cause mold to grow. This will cause you to have to do a full tear-off and replacement of the roof, structural work, and have a mold remedial team come in to remove all the mold, all of which will cost you a tonne of money, not to mention the amount of time this will all take or the headache you will get from dealing with all of this.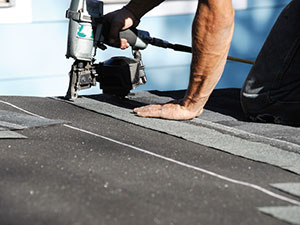 Is your roof starting to sag? In this case, you would need to get your roof repaired without delay. This is a clear indication that something has gone very wrong with your roof, and it may have to be replaced if it has been left in this state for too long.
Missing or broken shingles are some of the most visible and noticeable indications that your roof needs repairs. When your shingles are past their prime, it shows, and that is when it is time to call in our experts. Even if it is only a few missing or damaged shingles, you need to get them replaced quickly so that the damage does not become a much larger issue. A well-maintained roof protects your property from the elements, keeps pests out, and increases the overall value of your property.
Call today!
If you have noticed any of these warning signs on your roof, whether it is your home or your commercial building, it is time to call in our professionals here at Blue Rain Roofing and Restoration. We give a free estimate with each and every inspection we do. If you have any questions or are ready to get us on your roof and you have a building in Lee's Summit, MO, call (816) 358-7663 today.