Your home's siding is usually one of those things that we frequently do not think about until it has serious issues going on. Siding is the defense mechanism of your property and the protection of your family. Therefore, your home's siding needs to be kept in its optimal state all year. If you are a homeowner in Raytown, MO, or the surrounding area, feel free to reach out to our top-notch craftsmen at Blue Rain Roofing & Restoration at (816) 358-7663. We are well known for our siding installations across the state of Missouri, and we are excited to continue serving our neighbors for many years to come.
Our Top-Notch Siding Installations
If the siding of your home has gotten to the point of no return, we are here to do a new siding installation to continue protecting your home from every side.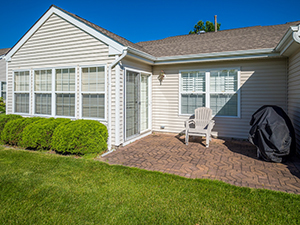 When you notice any problems, even small ones, with the siding of your property, you should give us a call immediately. We will set out for your building's location right away, and upon our arrival, we will commence with our detailed inspection of the siding to determine the severity of the situation. Once the inspection has been fully completed, we will provide you with our obligation-free estimate which contains the results of that inspection as well as our recommendation on how we should proceed with caring for your siding. If tearing off the old siding and replacing it turns out to be the best solution, we will start the replacement job as soon as you agree to the terms and conditions in the estimate. Our work is always done with the highest quality materials.
If any other siding service besides replacement turns out to be the best way to fix the problem, we are ready to handle that service as well.
Top-quality siding materials
Aside from top-grade workmanship, the materials that are used in any of our siding jobs also have a say in how successful the job will be, as the better the quality, the longer it will be before it starts degrading. That is the reason we utilize materials from only the best manufacturers in the area. As a result, you can confidently depend on the work we carry out on the exterior of your home.
Call us today!
Are you in need of reliable, high-quality siding installation in Raytown, MO? If you are a homeowner, just contact Blue Rain Roofing & Restoration at (816) 358-7663.