Severe storms can wreak havoc on your commercial roof. Property owners in Missouri know how unforgiving the weather can be. This is why you should work with a trusted company like Blue Rain Roofing & Restoration in Gladstone, MO. You need a trusted roofing partner by your side before emergency strikes. This will help you save time and money when it is most critical. Call us today at 816-358-7663 to learn more about our storm damage repair services!
Addressing Storm Damage
Be Prepared
Since storms are an inevitable part of life in the Midwest, it is best to have a plan in place. The first step is to prepare a shelter from the storm with the necessary supplies, such as food, water, and blankets. This will be one less thing to think about, allowing you to focus on your building and your roof.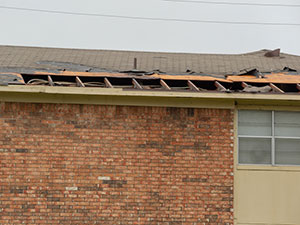 It can be difficult to stay calm and think logically in a severe storm. However, this is crucial to protecting your building and the people inside. Make sure you have a plan for the unexpected. We recommend having a supply of food and water ready whenever you need it.
Part of being prepared is partnering with your trusted contractor to perform regular maintenance on your roof. This will allow your roofer to detect any problems in a timely manner, enabling you to make the necessary repairs quickly. This will save you both time and money.
The Aftermath
Once the storm has passed, then it is time to call our expert team. We will arrive at your property quickly to assess any damage to your building.
If you need to file an insurance claim, we can help with that as well! We can guide you through the complete process, and we'll do our best to ensure that you get the compensation you deserve.
Once our inspection is completed and we have filed your claim, then our expert technicians will get to work. We'll begin repairing your roof, gutters, siding, or any other areas that the storm has damaged.
Call Today
Storms are common in Missouri, especially in the spring and summer. With Blue Rain Roofing & Restoration by your side, you can get the storm damage repair services that you need. If your building is in Gladstone, MO, contact our team! Call today at 816-358-7663 to learn more about how we can help you.