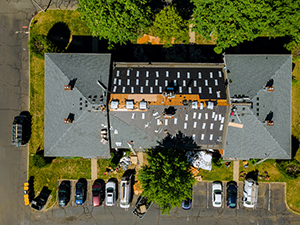 There are tons of blogs that cover getting an emergency roof repair done but none of them tell you when it is an emergency and when it is a regular roof repair. Today we are going to cover a couple of scenarios that are cause for your roof repairs to be considered as emergency roof repairs. Blue Rain Roofing and Restoration is the roofing company to call when you need an emergency roof repair done in or around Overland Park, KS. To get into contact with us call (816) 358-7663.
Damaging Storms
Here in Kansas, we have all gone through storms that cause considerable damage to properties as well as the damage that these storms can force upon us as individuals. These storms are known to cause issues with our roofs whether we are talking residential buildings or commercial buildings. In these times we need to know that this is a clear cause to request emergency roof repairs for our buildings. Only after a storm has gone should you consider worrying about your roof. We believe your safety and wellbeing is more important than that of your roof. A roof can be repaired after a storm, a human is not replaceable and only so much of the damage can be repaired.
Falling Tree Branches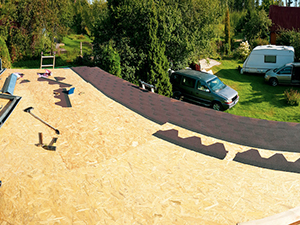 Tree branches fall for assorted reasons such as the branches have become too heavy for the tree, it has some form of disease which kills the tree from the inside out, or it is being trimmed by an arborist. Any of these factors can cause a branch to fall on a roof causing damage that needs an emergency roof repair. Call us so that we can come to your location quickly. We will perform a thorough inspection of your roof and let you know what the best course of action is. Then we will put in the work to get your roof repaired correctly, so that you can go back to handling life.
Contact Us Quickly
There is nothing like finding your roof needs repairs after you have gone through a storm, or a heavy branch has landed on your roof. We at Blue Rain and Restoration are here for the good people of Overland Park, KS to turn to when they need an emergency roof repair done in a timely manner. Call us right away so we may help you as soon as possible (816) 358-7663.