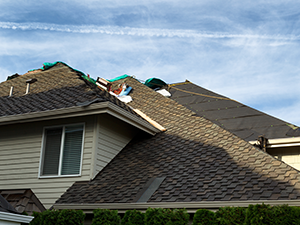 Re-roofing is something to seriously consider when your roof is facing issues and normal repairs are not doing the trick for you. Roofs in Blue Springs, Missouri, are faced with a lot of harsh conditions that only the roofers at Blue Rain Roofing and Restoration understand. We are here to explain one of the options that a customer has when facing a faulty roof, which is re-roofing! To find out more about re-roofing in your area, you can call us at 816-358-7663.
Why Re-Roof?
In certain cases, re-roofing is required, and in other cases, a full roof replacement is a necessity. We can only judge the severity of the roof once our roofers conduct a thorough inspection and generate a report. Only after that can we sit down with you to decide on what we can do for your roof.
Re-roofing is done only once during a roof's lifetime. This just means that parts of a new roof are added on top of an already solid but slightly faulty structure. It can be done to cover up minor issues so that the roof can function properly in the long run. However, if there are major problems with the deck or other similar factors, re-roofing will not be the appropriate path to take. An inspection needs to be fully carried out by our team to determine all of this. You should feel confident that we are honest and trustworthy when we recommend repairs, re-roofing, or replacement. Your roof must require that service in order to remain structurally sound.
The Advantages of Re-Roofing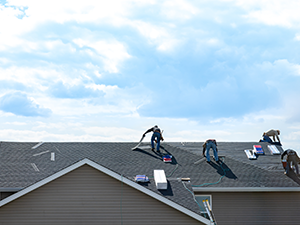 There are several advantages to a procedure such as re-roofing. The first one is the cost; re-roofing is less expensive when compared to a full tear-off and roof replacement. This option is handy for residential customers who have fewer funds available.
The second one is that re-roofing is quick and easy. Therefore, our roofers will not be taking much of your time once we start the job. Your business or residential activities will not be interrupted for a long time!
The third advantage of re-roofing is that it gives your roof a second layer to fight against storms. It makes the roof more durable, greatly increasing its life span. Thus, re-roofing positively affects the longevity of your roof.
Call us today!
If you are still not convinced about the re-roof service that is offered by Blue Rain Roofing and Restoration, then call us at 816-358-7663 for more information. There is no better roofing company in Blue Springs, Missouri, than Blue Rain Roofing and Restoration!