Blue Rain Roofing & Restoration has the people of Blue Springs, MO covered with all kinds of cost-effective commercial roofing services. We work on many different types of commercial roofs. Our company offers excellent customer service, great prices, and timely roofing assistance. To get a free quote on your roof, give us a call today at (816) 358-7663.
Roof Repairs & Maintenance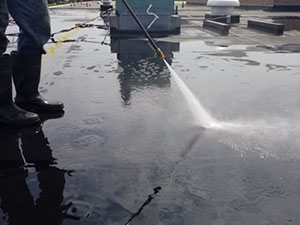 The right roofing company can have your roof lasting significantly longer with timely roof repairs and maintenance. The roofers at Blue Rain Roofing & Restoration have years of experience repairing and maintaining all kinds of commercial roofs. Whenever your commercial roof has an issue, our team will be over shortly after you call to resolve the problem.
Roof Coatings
Across the United States, many roofs are replaced earlier than they need to be. This means paying for more costly roof replacements. Here at Blue Rain Roofing & Restoration, we're always looking for the best solution. A roof coating will fully restore the condition of a roof. This means 10+ years of additional watertight protection!
Roof Replacements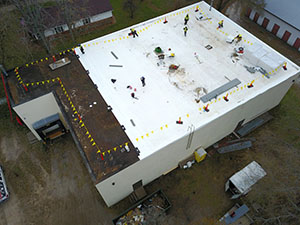 When it comes time to choose a roofing contractor, you always want to hire the best. This is especially true when your building needs a roof replacement. Blue Rain Roofing & Restoration has an extensive history of successful roof replacements. We offer roof replacements at great prices to our clients in Missouri. To get your new roof started off on the right foot, choose Blue Rain Roofing & Restoration for the project.
Why Blue Rain Roofing?
Our company enjoys providing first class commercial roofing services at great prices. As a full-service roofing company, clients can rely on us for years to come. Our customer service is top of the line and 100% customer satisfaction is always our goal. We offer free project estimates along with complimentary roof inspections.
Call Us Today!
Blue Rain Roofing & Restoration is the gold standard for commercial roofing companies. We have a team of exceptional roofing specialists with many years of experience. Our company provides a complete list of commercial roofing services. Set up a free roof inspection from us today by giving us a call at (816) 358-7663. We offer fast and effective roofing solutions!