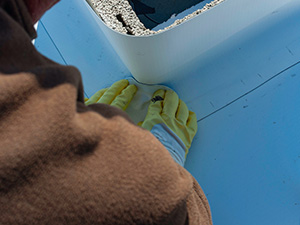 Your roof serves to protect your building and those inside from the elements. However, over time, wear and tear and severe weather can lead to roof damage. Fortunately, the team at Blue Rain Roofing & Restoration in Grandview, MO, is here to help. Our team provides comprehensive roof repair services to protect you and your building. Call us today at 816-358-7663 to learn more!
Signs of Damage
It is important to recognize signs of damage on your roof. Common signs include missing or cracked shingles, leaks, water stains on the ceiling or walls, or a sagging roof. These issues can lead to more significant problems if not addressed promptly, such as mold growth, structural damage, or even a complete roof collapse. If you notice any signs of damage, contact our team immediately.
Repair Process
When you contact us, our team will schedule a roof inspection to assess the extent of the damage. We'll then recommend the most appropriate solutions based on your needs and budget.
We only use high-quality materials for our repairs to ensure that your roof is restored to its full functionality. We'll work with you every step of the way to ensure your project is completed quickly and efficiently, with as little disruption to your normal operations as possible.
Emergency Services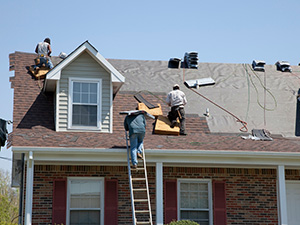 In some cases, your roofing issue must be resolved immediately. This is why our team also offers emergency repair services when the unexpected happens, such as storm damage or sudden leaks. We understand these issues can be stressful and potentially dangerous, so we're always available to provide prompt and reliable emergency services.
Benefits of Professional Services
Hiring a professional roofing company for your repair needs offers many benefits. To begin with, our team has the experience necessary to diagnose and repair even the most complex roofing issues, ensuring your repairs are completed correctly the first time. We also use high-quality materials, which can save you money in the long term by extending the lifespan of your roof. Additionally, our repairs come with warranties, giving you peace of mind, knowing that your investment is protected.
Call Us Now
Your roof is one of the most critical parts of your building, so it's essential to keep it in good condition. Here at Blue Rain Roofing & Restoration in Grandview, MO, we're dedicated to providing high-quality roof repair services to property owners in the area. To learn more, or to schedule your inspection, call us today at 816-358-7663!