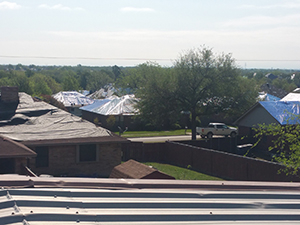 Has your roof been damaged? Does your roof need a repair, or does it need to be replaced? This is a question we can answer for you.
At Blue Rain Roofing & Restoration we know that finding your roof has been damaged causes a significant amount of stress for you. We will come to your location in Overland Park, KS, or the surrounding area to inspect your roof and let you know what needs to be done. Call us right after the damage has been done so that we can get to you as quickly as possible 816-358-7663.
Storm Damage
Storms can cause a lot of damage. This damage can be as small as removing some shingles to creating holes in your roofing system. We can repair these damages for you.
Repairs are done by patching the area. If there are missing shingles, then we will replace them after we check the entire roof to ensure that all damaged shingles are replaced. If the damage is more extensive, a roof replacement may be the best decision.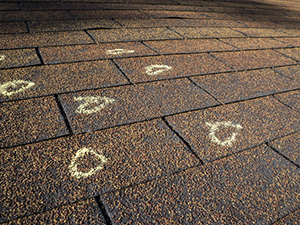 Frequently, storm damage is covered by your homeowner's insurance. We will work with you to file your claim, meet with the adjuster, and do all we can to ensure a positive outcome and speedy recovery for your home.
Ultimately, your insurance carrier determines if the claim will cover repairs only or replacement. Working with the adjuster, we point out all the damage involved, giving them a clear picture of the entire roofing structure condition. This enables the carrier to make a fair determination and improves your potential for a full settlement.
Aftermath
After repairing or replacing your roof, we clean up our work area. There should be no evidence of our presence beyond that beautiful, protective roof!
Another key feature after the work is done is the warranty your repair or replacement service provides. Be sure to ask about your warranty and the terms during our consultation.
Contact Us Now!
When your roof has been damaged, do not hesitate to pick up the phone. Any delay in getting the damage repaired will create more problems that will cost you more time and money. If your commercial or residential building is in the Overland Park, KS region and it has roof damage contact, us right away at 816-358-7663. We will get your roof back to its prime quickly and professionally.