Are you looking to give your building a fresh new look? Replacing your siding could be a great way to transform your building's exterior. The team at Blue Rain Roofing & Restoration in Greenwood, MO, should be your first choice for top-quality siding replacement services. With our exceptional craftsmanship and attention to detail, we can help you achieve the results you want. Contact us today at 816-358-7663 to schedule your consultation!
Importance of Siding Replacement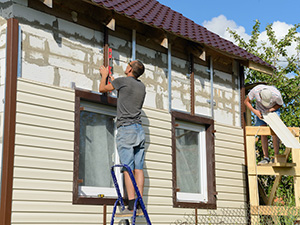 Siding protects your building from the elements, while enhancing its visual appeal. Over time, siding can become worn, damaged, or outdated, diminishing the overall appearance of your property. By investing in professional siding replacement services, you can not only enhance your building's aesthetics, but also improve its functionality and energy efficiency. Upgrading your siding can provide better insulation, reduce energy costs, and increase the value of your property.
Our Siding Replacement Services
We take pride in providing superior siding replacement services to building owners across the region. Our team of skilled professionals offers a wide range of siding options to suit your preferences and budget. Whether you prefer vinyl, fiber cement, or wood siding, we have the expertise to handle the installation with precision and care.
Reasons to Choose Us
Superior Materials
Our crew exclusively utilizes high-quality siding materials with exceptional durability, long-lasting performance, and a visually-appealing design. We partner with reputable suppliers to source the finest products, ensuring your satisfaction.
Skilled Craftsmanship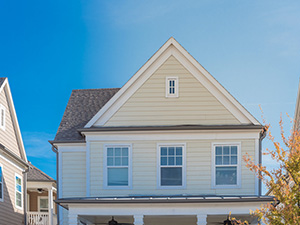 Our experienced professionals have undergone extensive training in the latest siding installation techniques. Their expertise will guarantee flawless results for your siding project. We closely pay attention to every detail, ensuring precise installation and alignment.
Tailored Solutions
Our crew recognizes the uniqueness of every building. This is why we work closely with you to assess your building's architectural style and specific requirements, determining the most suitable siding option for you. Our customized solutions will align with your preferences and enhance your building's appeal.
Attention to Detail
We demonstrate an unwavering commitment to careful attention to detail, from the initial consultation to the final installation.
Call Us
Don't let outdated or damaged siding affect your building's appearance. Professional siding replacement services from the team at Blue Rain Roofing & Restoration in Greenwood, MO, can boost your building's aesthetic appeal, increase its value, and improve its energy efficiency. We are dedicated to delivering exceptional results and excellent customer service. Contact us today at 816-358-7663 to schedule your consultation!