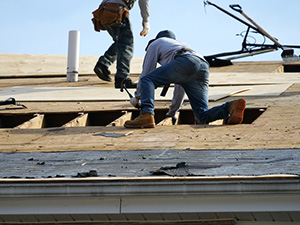 Are you looking for reliable and skilled roofers in Greenwood, MO? If so, your first choice should be the crew at Blue Rain Roofing & Restoration. We are a skilled contractor that provides building owners in the area with exceptional roofing solutions. With our expertise and commitment to customer satisfaction, we are your top choice for all your roofing needs. We offer a wide range of services, so you can count on us to help you. To learn more, call us today at 816-358-7663!
Services We Offer
Our team offers comprehensive roofing services to help both residential and commercial property owners:
Repairs
From minor leaks to storm damage, our skilled roofers have the expertise to complete a wide range of repairs promptly and effectively. We use high-quality materials and advanced techniques to ensure durable and long-lasting solutions.
Installation

If you need a new roof, our team will guide you through the installation process. With a variety of roofing types available, including asphalt shingles, metal roofing, and flat roofs, we will help you choose the best option for your budget and style preferences.
Maintenance
Regular maintenance is key to extending the lifespan of your roof. We offer comprehensive maintenance programs to keep your roof in optimal condition. Our experts will identify and address potential issues before they become larger problems, saving you time and money in the future.
Why Choose Us
Our crew stands out from other contractors in the region for many reasons:
Experience and Knowledge
Thanks to our many years of experience, our team of skilled roofers has the knowledge and expertise to successfully complete projects of any size or complexity.
Quality Materials
We understand the importance of using top-grade materials, as this ensures the durability and longevity of your roof. We work with trusted suppliers to source high-quality materials that will withstand the elements.
Customer Satisfaction
Your satisfaction is our top priority. This is why we provide personalized services, clear communication, and exceptional workmanship, ensuring every client is pleased with the results.
Call Us
When it comes to high-quality roofing services in Greenwood, MO, Blue Rain Roofing & Restoration is the name to trust. We are experienced roofers who specialize in repairs, installations, and maintenance, serving both residential and commercial property owners. Call us today at 816-358-7663 to schedule your consultation or to learn more about our services. We look forward to partnering with you!