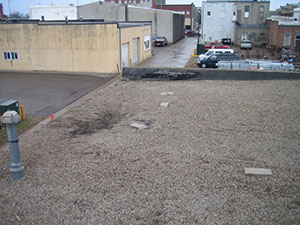 The need for a flat roof repair on your commercial or industrial building shouldn't be cause for major concern and when you have the number for Blue Rain Roofing on hand, it won't be! As a full-service roofing company, we know what it takes to help flat roofs succeed here in our climate in Prairie Village, KS. Flat roofs are a common choice for commercial and industrial buildings and unlike your home's roof, their lack of slope can be troublesome when it comes to ponding water.
With winter quickly approaching, now's the time to make sure your roof can properly divert any water that finds its way atop your building. Be it snow or ice, water that is left to sit can quickly cause major problems for your roof, your building, and your budget! Make sure things are performing properly and schedule your roof for inspection with our professionals to ensure any necessary repairs or services are completed before the snow falls! Reach out today at (816) 358 – 7663 and let yourself breath easy knowing you can stay dry and protected with confidence all season long!
Quality Repairs and More!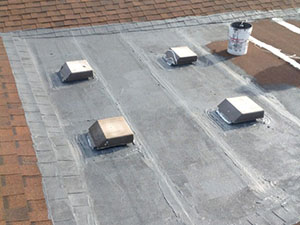 When you put your roof in our hands, you can be sure any work we complete on your roof will be done to last. Our roofers bring only the finest, trusted products to your roof, no matter its needs and our skilled roofing professionals are trained in all areas of commercial roofing which means your flat roof, no matter the type, will get the specialized care it requires. We know that a shoddy repair can lead to a failing roof far sooner than necessary and we're proud to say this is a worry you'll never have when we're taking care of your roof! Put your roof in the right hands and you'll have hassle free roofing services throughout its lifespan!
Call Today
Whatever type of flat roof you have atop your building, you can be sure our team of professionals will get it resolved quickly and flawlessly. We specialize in all types of flat roofing systems, any repair or service needs you have will be done to last so you can be confident in your roof no matter the time of year! For quality service in Prairie Village, KS, call Blue Rain Roofing today at (816) 358 – 7663.