The roof is one of the most essential elements of a building, whether it is a commercial or residential building since it keeps everything underneath it safe. Call Blue Rain Roofing and Restoration at (816) 358-7663 when there is a hail-damaged roof that needs to be restored in the Blue Springs, MO area.
Missing Shingles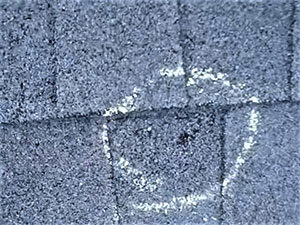 A clear indication that there is hail damage is missing shingles. Missing shingles left unchecked can cause damage to the structure of your roof, which can lead to leaks in your roof. This will lead to a more expensive repair job or a full tear-off and replacement.
Sunlight and inclement weather can cause cracked roof shingles to also become brittle. There are other types of wear and tear, such as flaking, blistering, and cracking. Noticing cracks in your roof shingles, especially after a hailstorm, is a clear indication that your roof needs maintenance. Call us right away.
Keep in mind that different shingles will react differently to damage caused by hail. A wood shingle will not look the same as a composition asphalt shingle after damage from hail. You can always go onto your roof to look at your roof shingles, even feel them. They will feel different when they are in need of replacement than when they are in good repair.
Bruising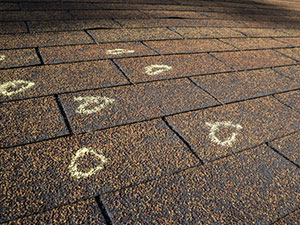 Smaller dents in your roof from hail are called "bruising." You can feel along the surface of your roof for these. The bruising may not need immediate attention but will give you an idea of areas that will become issues in the future.
However, if the dimplings have any give when you press on them, that is an indication the shingles have started to decay underneath. If this is the case, it is important to call us to have a thorough inspection of your roof to ensure the lifespan of your roof.
Call
When a hailstorm has come through and there is damage to your residential or commercial roof here in Blue Springs, MO, and the surrounding area, you need to call us right away at (816) 358-7663. Blue Rain Roofing and Restoration will happily come to your location and do a thorough inspection for you today.