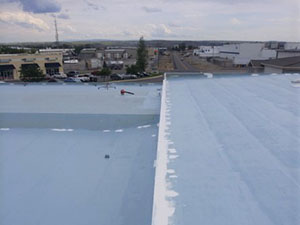 A restorative roof coating can make a huge difference in the life of your commercial roof and at Blue Rain Roofing, we'll make sure your roof coating is applied flawlessly. We deliver superior roof coating solutions throughout the Lee's Summit, MO area and we'll help improve and extend the life of your current roof with our full list of roofing solutions. If you own or manage a commercial building in the area and you haven't heard of roof coatings or restorations before, give our team a call today and we'll make sure you know the long list of benefits they have to offer! We're just a phone call away at (816) 358 – 7663 and we look forward to working with you!
Solutions for All Roof Types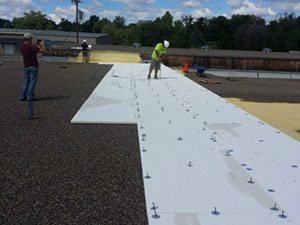 The majority of commercial roofing systems are great options for roof restorations. When you restore your commercial roof with a roof coating from the professionals at Blue Rain Roofing, you'll be able to get years extra from your current roof and a premature roof replacement won't be a thing you have to worry about! We work hard to keep our customers roofing costs to a minimum while keeping their roofs in peak performing condition all year long. We know you've got a lot on your plate and we're happy to take over the needs of your commercial roof so you can be worry free about the protection it provides season after season. Find out if your roof is a good candidate for our exceptional coatings today, we'll be happy to inspect your roof and provide you with a no-cost, no-obligation estimate on your roof restoration project!
Reach Out Today
If you'd like to learn more about your roof coating options or if you'd like to schedule an inspection or service in Lee's Summit, MO or the surrounding areas, call Blue Rain Roofing today at (816) 358 – 7663. Our professional roofing contractors will make sure your roof is in prime condition to keep things protected and our 24/7 emergency services guarantee any issues on your roof will be handled immediately. For affordable and reliable services you can count on, reach out to our team today!