Scheduling a roof inspection for your home should be one of the least stressful tasks you can have and if it isn't, it's likely time to find a new, local roofer you can trust to handle all your home's roofing needs. Blue Rain Roofing & Restoration is proud to be a top local roofing contractor for homeowners in and around the Lenexa, KS area and we know a simple roof inspection is the first step in helping your home's roof succeed for the long haul. Our roofers are here to help you remain protected confidently and with the summer season just ahead, now's a great time to ensure your home's roof is ready for anything mother nature has coming our way. Call our team today at (816) 358 – 7663 and know you can soon have the peace of mind you deserve that comes with solid protection.
Inspect and Maintain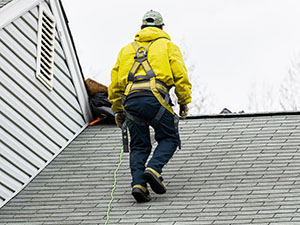 At Blue Rain Roofing & Restoration, we know it's easier to stay ahead of the needs of your roof rather than working to repair and restore things. While we are a full-service roofing contractor that offers emergency roofing services and superior repair and restoration solutions, we continue to do our best to help our customers keep their home's roofs functioning at their best at all times. Not only does this make it much harder for any impending storms to devastate your roof and home, but it also helps you to get the maximum life potential from your roof! What a great thing to hear with such a significant investment. With Blue Rain Roofing & Restoration, all your roofing needs are met with our professionals and affordable, long-term solutions are just a phone call away. A thorough roof inspection is just the beginning.
Reach Out Today
Don't question the condition of your home's roof with the stormy summer season just around the corner. Blue Rain Roofing & Restoration is the team you can trust to deliver a complete roof inspection so that no issue will have the chance to go unfound. We'll keep your home in Lenexa, KS confidently protected during any season, just reach out to us today at (816) 358 – 7663.