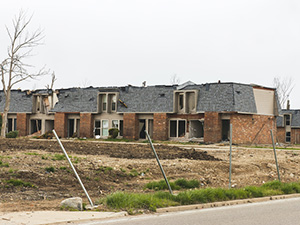 A strong, sturdy roof can protect your commercial building for many years. Therefore, it is crucial to understand what roof insurance is and how it works. Property owners should be aware of what their roofing insurance plan consists of. When they need to submit a claim, they will be able to reduce their out-of-pocket expenses. If you need a roofing company to help you file a roof insurance claim, reach out to the team at Blue Rain Roofing & Restoration. We have experience working with insurance companies, and we know what it takes to get your claim approved! Call us today at (816) 358-7663.
Why is Roofing Insurance Necessary?
Roofing insurance protects you and everything inside your commercial building. Roofing liability insurance protects against injuries and property damage that may result from a damaged roof. This insurance can pay for the cost of repairs for damages related to severe weather, aging, or even vandalism.
A damaged roof is of crucial concern to any business or commercial roofing insurance company, as it can destroy what is inside your building. If handled correctly, your roofing insurance will pay for a restoration, repairs, or a replacement.
Roof Insurance Claim Records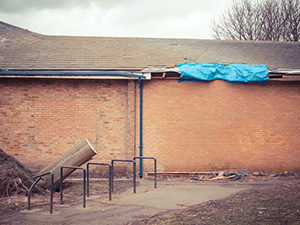 A major challenge in the insurance claim approval process is proving that you have been properly maintaining your roof. Whenever a company works on your roof, make sure to keep the receipt for your records. This also includes any maintenance work completed. These records will be very useful when it is time to submit a claim.
When the experts at Blue Rain Roofing & Restoration help with your claim, we will also send the insurance company a copy of these maintenance records. This proves that you are indeed maintaining your roof properly. The claim is much more likely to be approved by your insurance company when you can demonstrate you were being diligent and responsible in your roof's upkeep.
Call Us
Roof insurance claims can be very complicated to submit and get approved. Allow Blue Rain Roofing & Restoration to help you in this process! We will make it easier for you and help you get the money you deserve from your insurance company. If your commercial building is in Belton, MO, call our team at (816) 358-7663.