If you have a home in Gladstone, MO that needs a shingle repair, the team at Blue Rain Roofing & Restoration can be over quickly to help provide an effective solution! Our craftsmen are shingle repair experts and will have your roof leak-free yet again. To set up an effective solution, please get in touch with our team today at (816) 358-7663.
The Shingle Roof Experts

A high percentage of homes in the state of Missouri are protected by shingle roof systems. Therefore, the roofing specialists at Blue Rain Roofing & Restoration have been working on these kinds of roofs for a very long time! For quality shingle roof repairs and other solutions, you can count on our team for the project!
Detection of Roof Leaks
Finding roof leaks on a shingle roof is not always so easy. For thorough roof leak detection services, you can always turn to Blue Rain Roofing & Restoration. Our craftsmen are trained to find different kinds of shingle roof problems. To have our experts detect roof leaks in your home, reach out to us for a roof inspection!
Quick Response Times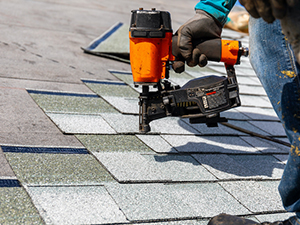 If your home's roof is leaking, water can get in and damage your home and the things within. There is often not much time to waste when a roof needs repair! Blue Rain Roofing & Restoration has people covered with fast response times. This will mitigate the damage caused and will make roof problems a thing of the past!
Why Blue Rain Roofing & Restoration?
There isn't necessarily one thing that sets Blue Rain Roofing & Restoration apart from other roofing companies, but rather a combination of things. This combination includes low prices, fast response times, and exceptional craftsmanship. When you need dependable residential roofing specialists for a project, just give us a call! We look forward to earning the trust of more people in the state of Missouri with our quality roofing services!
Call us today!
The sooner you have a shingle roof issue dealt with, the better off you are. For effective shingle repairs and other types of residential roofing services, the good people of Gladstone, MO can count on Blue Rain Roofing & Restoration! To begin, just call our team at (816) 358-7663 and we will have our crew over to inspect your roof!