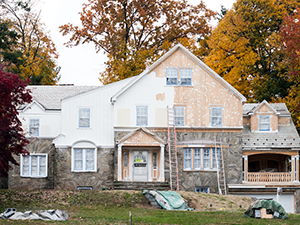 Updating your home should be a time of excitement and a fresh start. But as soon as the harsh reality of vetting contractors, timelines, and budgetary constraints starts to sink in, a renovation project can feel more like a nightmare than a joyous occasion.
When it comes to your home's siding, its life expectancy is always a topic of discussion and debate. While wood and aluminum siding are classic choices, vinyl siding has grown in popularity over the years due to its longevity and durability. An additional benefit to vinyl siding is that it is energy efficient and can help lower utility costs when it is maintained regularly.
Whichever material you decide to go with when installing or replacing your existing siding, make sure you join forces with a trusted siding contractor. Blue Rain Roofing and Restoration is here in Lee's Summit, MO to help you with your siding replacement. Call us today at (816) 358-7663.
When Is It Time to Replace Your Siding?
Replacing your home's siding is one of those inevitable projects that tend to sneak up on people. As for the timeframe, that truly is dependent on multiple factors. If routinely maintained, siding can last for several decades. But it will come down to the material your siding is made of, the quality of the installation, how often you clean it, and what kind of climate you live in.
When siding begins to degrade and break down, it will leave your home vulnerable to the elements. That is an ideal time for things like water damage and mold to start taking shape. When mold starts to grow in your home, it can be hard and expensive to get rid of.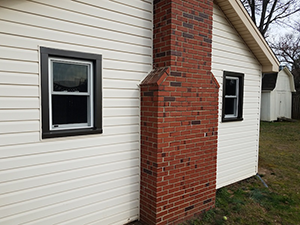 Catching dry rot early may mean the difference between replacing a section of siding or replacing all the siding. Do not wait until the rot is visible to the naked eye. The fungi that cause dry rot start below the surface of the siding. If your siding is nearing 5 years old, have us come do a thorough siding check.
Noticeable Cracks in Your Siding—It is common for your siding to take a beating during intense storms. If this happens, it is no cause for alarm but should be dealt with swiftly. Again, you do not want to give water an opportunity to get under the siding. If you see that there are cracks or loose siding, you need to get that section replaced without delay.
Fungus, mold, and mildew – If you notice black mold or fungus on the outside of your home or across sections of siding, it could be one of two things. Either there is just mildew forming on the surface of the siding, which can be easily treated by washing it down with a cleaning solution and a high-pressure washer. But if you notice that there is mold or mildew on the seams of the siding, then that is cause for concern. Mold and mildew can be a sign of water damage under the siding. This is worth a closer look by a siding professional.
These are just a few red flags to be on the lookout for. Just to be on the safe side, simply add a siding maintenance program with us.
Washing off the exterior of your home with a cleaning solution to get rid of on-the-surface mold and mildew is always an effortless way to reduce issues. Make sure you regularly clean out your gutters to prevent water from running down the side of your home. These are just a few tips to keep the outside of your home looking good and in excellent condition.
Remember that expertly installed siding can add value to your home and increase the resale price when you decide to sell it. It is prudent to weigh quality against cost and fall somewhere in the middle. While it is easy to reach for the best bargain, you do not want to be cheap on siding either.
Finding a trusted siding contractor is key to the longevity of your exterior. From installation to the quality of the materials, call Blue Rain Roofing and Restoration at (816) 358-7663.