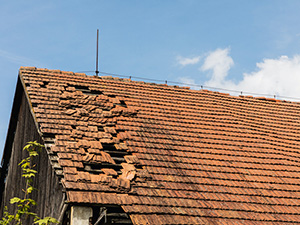 Your building's roof acts as a shield against the elements, ensuring safety and protection for anyone inside. When faced with roof damage, addressing the issue promptly is crucial to prevent further problems. The team at Blue Rain Roofing & Restoration is your reliable partner in Greenwood, MO. Let our crew provide the expertise and solutions you are looking for. Call us today at 816-358-7663 to learn more!
Identifying and Resolving Damage
Roof damage can be caused by various factors, including severe weather, aging, improper installation, or lack of maintenance. Recognizing the signs of roof damage is crucial to prevent leaks, structural issues, and potential hazards. Our experienced professionals have the knowledge and skills to effectively identify and address different types of roof damage.
Our Services
Thorough Inspections: Our skilled team conducts meticulous roof inspections, thoroughly assessing every component for signs of damage. We examine shingles, flashing, vents, and underlying structures to identify vulnerabilities or areas requiring repairs.
Leak Detection and Repairs: Swift action is essential if you notice water stains on your ceiling or experience indoor leaks. Our specialists specialize in locating and repairing roof leaks, preventing further water intrusion and potential interior damage.
Storm Damage Restoration: Harsh weather conditions, including hail storms or strong winds, can cause significant roof damage. We have the expertise to assess the extent of the storm damage and deliver efficient restoration services, including shingle replacement, repairs, and structural reinforcement.
Maintenance and Preservation: Regular maintenance is crucial in extending your roof's lifespan. Our comprehensive maintenance programs include inspections, cleaning, and proactive measures to identify and address potential issues before they escalate into costly problems.
Why Choose Our Team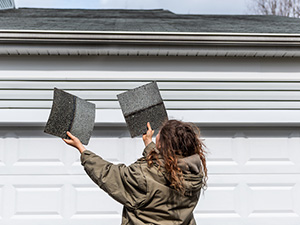 Expertise: With our extensive experience in the industry, our team is adept at handling a wide range of roof damage. We continuously stay up-to-date with the latest advancements in the industry to ensure we use the most effective techniques and solutions.
Quality Craftsmanship: We take immense pride in delivering superior workmanship and using high-quality materials. Our commitment to excellence ensures that your roof repairs or restorations will be durable, reliable, and long-lasting.
Transparent Communication: Open and transparent communication is at the core of our company. We keep you informed about your roof's condition, recommend repairs, and provide clear timelines for completion.
Call Us Now
When protecting your building against roof damage in Greenwood, MO, you can trust Blue Rain Roofing & Restoration as your dependable partner. Contact us today at 816-358-7663, and let us help restore the integrity and performance of your roof!