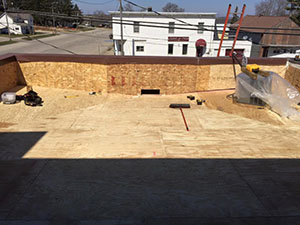 Leading the way for commercial roofing companies in Olathe, KS and the surrounding areas is Blue Rain Roofing, and our team of professional roofing contractors is ready to get your roof prepped for the coming winter. Your roof is a major investment and it should be treated as such, with Blue Rain Roofing at the helm, you can rest easy knowing you have a trusted team that will help you keep it protected so that it can in turn, keep you protected confidently throughout its life. Reach out to our team today at (816) 358 – 7663 and you'll experience the quality we have to offer in every way!
Repairs
Roof repairs are a common service for our team to complete in the area as the storms we see can be damaging to our roofs, but we're proud to have roofers available 24/7 that can get any damage secured right away to ensure it's kept to a minimum. Any repairs we complete on your roof will be done with quality products that have proven themselves worthy of protecting your roof and building. Know things are done to last, call Blue Rain Roofing today!
Roof Coatings and Restorations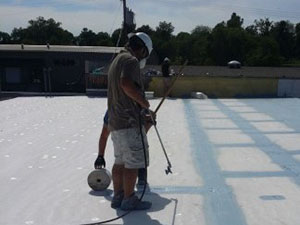 If your roof has recently been repaired, a roof coating is a great service to have completed afterward to ensure your roof can offer the same, reliable watertight protection. The return on investment with our roof coating services is vast and this helps them continue to be a popular roofing solution! Whenever you trust your roof to us, if it can get more years of life with a roof restoration, we'll make sure it happens!
Replacements and Installations
At Blue Rain Roofing, while we always strive to restore your roof, we will never recommend you invest in a failing roof. If your roof has seen the end, we'll make sure you know all your quality roof replacement options! If you need a new roof installed on your building, we can handle that too!
Call Today
Work with one of the top commercial roofing companies throughout Olathe, KS and know your roof is getting the best! With Blue Rain Roofing taking care of your roof, it will be destined for success! Give us a call today at (816) 358 – 7663.