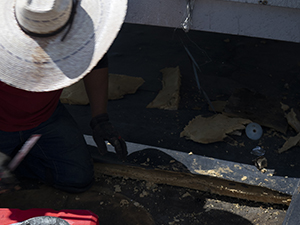 Having to deal with a roof in need of an emergency roof repair is stressful enough, make sure you know who to call when you have a roof in need atop your home and allow yourself to breathe a little easier knowing things can soon be resolved. Blue Rain Roofing & Restoration is proud to be the team of local roofing professionals that homeowners in Lenexa, KS and the surrounding areas continue to call on. Whether it's an emergency or not, we're here to help. We do offer 24/7 emergency roofing solutions because we know when disaster strikes and inflicts damage atop your home, there's no time to waste to ensure things can be secured. Keep damage to a minimum and call Blue Rain Roofing & Restoration right away if you believe your home's roof is due for repair. Our emergency line is (816) 808-9985, for routine roofing services, reach out at (816) 358 – 7663. Don't fret a roof in need when you have our professionals at the ready to help!
Keep Things Watertight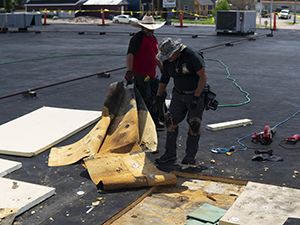 Here at Blue Rain Roofing & Restoration, we know keeping your home watertight should never be a question and that's why we're available to help keep things secured 24/7. When your home's roof has been compromised, things can quickly escalate. As a full-service roofing contractor, anytime you call on us, and we do mean anytime, you will be working with our professional roofers from start to finish. We don't outsource a job of any size and no matter the time, it's always our crew coming out to work for you. We're in this industry to keep our neighbors protected and we're always here to make it happen!
Call Us Today
Don't let your home sit in need of a roof repair anytime, especially if it's an emergency. Blue Rain Roofing & Restoration is here for homeowners in Lenexa, KS 24/7 and we'll be out right after you call to secure and assess any damage. It doesn't take long for damage to cause major devastation so never hesitate to call on us when you have a roof in need. Emergency services available at (816) 808 – 9985 or schedule a routine inspection to stay ahead at (816) 358 – 7663.