Having flat roof issues in Blue Springs, MO? Blue Rain Roofing & Restoration puts a stop to all kinds of flat roof problems. To set up a flat roof repair, reach out to us today at (816) 358-7663. Our experienced team will be over soon after to take a look at the condition of your roof.
Flat Roof Experts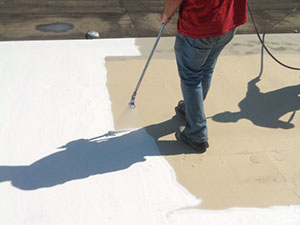 Blue Rain Roofing & Restoration has years of commercial roofing experience. Flat roofs are extremely common on commercial buildings. Therefore, our roofers have spent a lot of time fixing up all different types of commercial flat roofs. For a roof repair done right on the first attempt, go with Blue Rain Roofing & Restoration.
Roof Coatings
Flat roofs have been effectively restored for years using roof coatings. However, many roofing companies fail to recognize the optimal times to restore a flat roof. Blue Rain Roofing & Restoration is able to get several extra years out of flat roofs using quality roof coatings. This service will help you postpone the need for a new roof and will save you plenty of time and money.
Flat Roof Replacements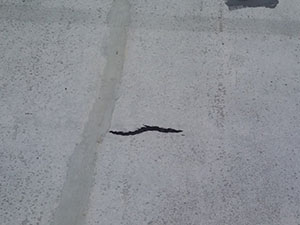 In the worst-case scenario, your roof is better off being replaced than repaired or restored. This might be because your flat roof is simply too old or damaged to be worth attempting to fix up. If this is the case, Blue Rain Roofing & Restoration will give you a free estimate on a flat roof replacement. Hire us to get your new roof installed perfectly!
Why Blue Rain?
There are a lot of roofing companies out there, so what sets Blue Rain Roofing & Restoration apart? We score well in every major category. Our customer service makes working with us easy. Our roofers have each been carefully selected, which is why our craftsmanship is levels above other roofing companies in the area. Lastly, we offer a full selection of commercial roofing services at great prices.
Call Us Today!
To receive timely help on your roof, reach out to Blue Rain Roofing & Restoration at (816) 358-7663. We'll swing by shortly after to inspect your roof. If your roof in Blue Springs, MO needs a flat roof repair or any other kind of roofing service, our experienced roofers have you covered!