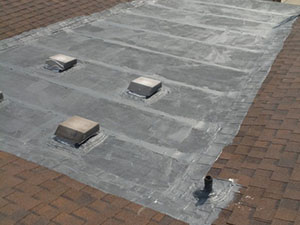 While a flat roof repair is like any services or repairs your roof might require and it's something that needs to be handled appropriately and quickly, it's something that doesn't need to cause major concern when you have the help of the trusted professionals at Blue Rain Roofing. With Blue Rain Roofing handling any of the needs of your roof, you can be certain any repairs or services completed will be done to last so that you aren't left to worry about the same problem soon down the road. We use only high-quality products for all services and repairs we complete because we know the importance of dependable products and workmanship. At Blue Rain Roofing, we're proud to bring top of the line services to building owners and property managers in Overland Park, KS and the surrounding areas and we look forward to working with you to get you a roof you can trust in once again. Give us a call to learn more about our long list of services and solutions for all types of commercial roofing systems, call today at (816) 358 – 7663.
Repairs Done Right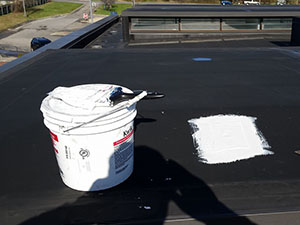 When you choose to work with the team at Blue Rain Roofing for any of your commercial roofing needs, you can rest easy knowing your roof will be in the finest hands around. Our roofers are all professionally trained and we continue to receive training anytime a new product or service comes out on the market because we know it's our job to provide you with the best available products and services. Our workmanship is second to none and when you pair that with the dependable products we use for every job, your roof will be set up for success after we've done the work! We're just a phone call away and we look forward to working with you!
Reach Out Today
Don't let yourself get overwhelmed with a commercial roof that requires a flat roof repair. When you trust your roof to professionals, you won't have to worry about any services or repairs your roof might require throughout its life, we'll handle it all with ease and make sure you always have a roof you can trust in! Call Blue Rain Roofing for superior service in Overland Park, KS, reach out today at (816) 358 – 7663.