A hailstorm can really do a number on a roof. It can puncture shingles and much more. If you are dealing with a hail damaged roof in Merriam, KS, Blue Rain Roofing is here to help. To get your roof fixed up by experienced roofers, just get in touch with us today at (816) 358-7663.
Roof Leak Detection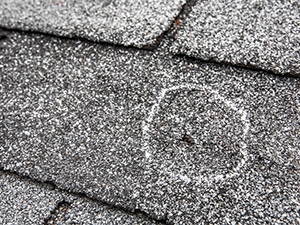 Finding roof leaks takes a lot of skill and experience. At Blue Rain Roofing, our roofing specialists are great at figuring out exactly where roofs are leaking so that repairs are successful. The people of Kansas can count on us to make their roofs leak-free again after a storm has passed through.
Roof Replacements
As the years pass by, a roof will start to show signs of its age. When a roof's condition has deteriorated past a certain point, you are best off just getting it replaced rather than spending time and money attempting to keep it together. After we inspect your roof, we can let you know if a roof replacement is needed.
Fast Response

With Blue Rain Roofing, your roof will benefit from timely roof repairs. Our company offers 24/7 emergency repairs because we know how important it is to fix up a roof quickly when it is damaged during a storm. There are times when a roof is not repaired right away, and it can cost you valuable belongings and cause lots of damage to your home. Look to Blue Rain Roofing for fast response times and effective solutions!
About Our Company
Blue Rain Roofing has an excellent track record in the state of Kansas. We are constantly looking for any way that we can help our clients save on their roofs. This means finding cost-effective solutions and maintaining roofs to help prevent bigger problems from forming in the future. You can always rely on us for good prices, honestly, and flawless craftsmanship!
Call Us Today!
After hail has damaged your roof, it's important to have the number of a dependable roofing contractor. To have your roof as good as new again, choose Blue Rain Roofing. You can reach us at (816) 358-7663 and our roofing specialists will provide your roof with whatever it needs. We are the top choice for the people of Merriam, KS!