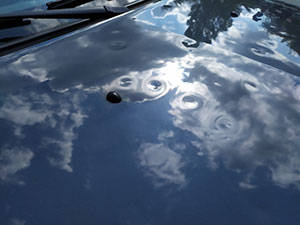 Hailstorms are known to frequently occur in the state of Kansas, especially in the summer season. No matter how well you have fortified your home's roof, it won't be able to escape the ramifications of a heavy hailstorm. There is a range of issues that hail can cause to spring up on your roof. Luckily for you, as a homeowner in Shawnee, KS, you can count on Blue Rain Roofing & Restoration for world-class repairs, restoration, or any other service your roof may need. Our proficient roofers have been tending to hail damaged roofs for quite a while now and today, we can proudly claim that they have the necessary skill set to deal with just about any roofing problem. So, give us a call at (816) 358 – 7663 to get started with our qualified crew!
A Comprehensive Roof Diagnosis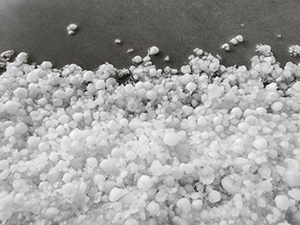 There are quite a lot of damages that hail can cause to your home's roof, such as dented shingles, broken shingles, blocked gutters, and more. To figure out whether your roof is suffering from one or more of these issues, our roof specialists will start off their job with an in-depth roof diagnosis. This diagnosis, in addition, will also help them in rooting out the exact magnitude and location of the problem(s) at hand. Once they are through with it, they will bring their extensive knowledge of the roofing industry to use and suggest the most cost-effective solutions for your needs in the form of a no-obligation estimate.
Appropriate and Long-lasting Solutions
The roofing technicians of Blue Rain Roofing & Restoration are fully aware of exactly what it takes to set your hail-damaged roof back on track. By offering you appropriate repairs, and other services, with the guaranteed use of only the premium quality materials, they aim to ensure that you are served with solutions lasting for a lifetime.
Call Us Today!
If not dealt with promptly, a hail-damaged roof can be a real nuisance. As a homeowner in Shawnee, KS, if your home's roof is compromised by a passing hailstorm, just reach out to Blue Rain Roofing & Restoration at (816) 358 – 7663 and our expert roofers will take care of the rest!