Finding a crew of local roofers whom you can trust can be a daunting task. As the leading roofing brand of Kansas, Blue Rain Roofing & Restoration is proud to offer top-quality roofing services to every single homeowner in Merriam, KS. Over the years, our roofers have relentlessly worked to perfect their craft. In the process, they encountered several ups and downs, and thanks to them, they are now fully equipped to apply whatever treatment your roof may need. Reach out to us at (816) 358 – 7663 and book a roof inspection from our experienced team today!
Services You Can Depend On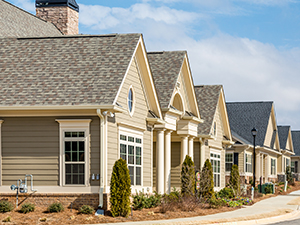 We are a full-service roofing contractor who can serve you with reliable roofing services all year long. Some of our main roofing services include roof inspection, roof maintenance, leak detection & repairs, on-site estimates, re-roofing, roof replacement, new roof installation, and siding services.
In all of the aforementioned services, our roofing specialists bring top-notch workmanship to the table. On top of that, we utilize only the superior quality roofing products in the market. We understand that the roof sitting atop your residential building serves to protect you and your loved ones which is why we highly prioritize customer satisfaction. We keep open lines of communication throughout your roofing project so that you are being kept informed of the proceedings and the end-product is exactly in accordance with your wishes.
The blend of top-quality workmanship, premium products, and exemplary customer service results in solutions that you can blindly depend upon!
Personalized Solutions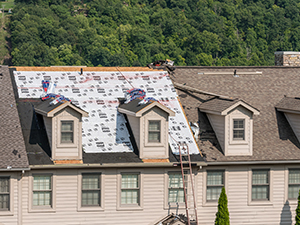 Each residential roof has its own particular needs. Ergo, it should be treated as such. At Blue Rain Roofing & Restoration, we always custom-tailor our solutions according to the needs, preferences, and budget of our valued customers. This way, your roof gets exactly what it needs to remain in top shape.
Call Us Today!
Looking for honest local roofers for the treatment of your home in Merriam, KS? Well, hire Blue Rain Roofing & Restoration today. We employ professional and skillful roofing technicians who can provide your roof the care it deserves to last for many upcoming decades. Contact us any time at (816) 358 – 7663.