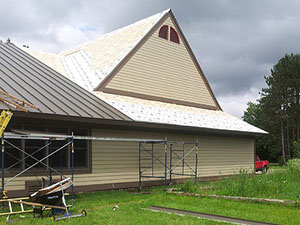 Here at Blue Rain Roofing, we know your home's roof was made to last a long time, but unfortunately it won't be able to last forever. For homeowners throughout Liberty, MO and the surrounding areas, we have great news! We help extend the life of many of our customer's roofs with our superior re-roofing services. A re-roof is a service that can typically be completed only once during a roof's life, but with Blue Rain Roofing working for you, you can be sure yours will get what it needs at the optimal times so you can always have a roof in peak performing condition. If you believe your aging roof needs a little TLC, reach out to Blue Rain Roofing today at (816) 358 – 7663.
A Fresh Roof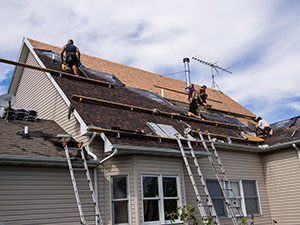 A fresh roof doesn't always have to involve a roof replacement, with Blue Rain Roofing working for you, you could soon have a fresh roof atop your home without the cost and hassle of a complete roof replacement! When we complete your re-roof, we will thoroughly inspect your current roof to make sure any issues are completely resolved, and we'll get your roof cleaned and free of any debris before we lay your fresh layer of shingles atop your existing ones. This will help your new shingles to perform properly for the long term, helping you to continue to get the most from your roof.
Because a re-roof involves overlaying new shingles atop your existing ones, you are truly getting a new roof on your home. Re-roofs are not always the answer and our honest roofing professionals will always work to make sure your roof and home get what they need to remain protected. We're in this business to keep you protected and help you save money, and we'll work to ensure both are always done so properly.
Call Today
Don't let a lackluster contractor replace your home's entire roof before finding out if you could benefit from a re-roofing service. At Blue Rain Roofing, we deliver quality re-roofs to our customers throughout Liberty, MO and we'll let you know if you have a roof that could benefit from being re-roofed. Honest roofing solutions are just a phone call away, give us a call at (816) 358 – 7663.