People are always looking for ways to save time and money on their roofs. Blue Rain Roofing & Restoration helps the people of Blue Springs, MO get more years out of their roofs. We restore roofs with roof coatings. To get a free estimate on a roof coating, call our team today at (816) 358-7663.
Lower Energy Costs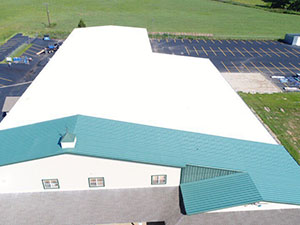 One of the best way to make a building more energy efficient is to increase the reflectivity of a roof. The team at Blue Rain Roofing & Restoration works hard to provide effective "green" roofing solutions. Whether this means installing a reflective roof or applying a roof coating, our roofing services can help you save a significant amount on energy costs for years to come!
Roof Restoration Experts
Our team specializes in roof restoration. A new roof requires a lot of time, labor, and materials. Unfortunately, poor craftsmanship can lead to premature roof replacements. Here at Blue Rain Roofing, we help clients extend the lifespans of their existing roofs using roof coatings. Our roofing specialists have many years of experience restoring all types of roofs!
Other Services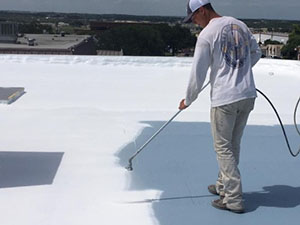 Aside from roof coatings, you can count on Blue Rain Roofing & Restoration for many other types of roofing services. This includes roof repairs, roof maintenance, and roof replacements. Our roofers are all fully licensed and insured. With our spotless safety record, exceptional craftsmanship, and great prices, we set the bar high for other companies in the area!
For a business owner or property manager, maintaining the condition of a commercial roof is important. A faulty roof can become a major distraction and can damage valuable assets. In fact, a roof itself is a valuable asset, and the roofing specialists at Blue Rain Roofing & Restoration will treat it as such. We'll keep roof issues at bay with first class roofing services at great prices.
Call Us Today!
If you are looking for a reliable roofing company in Blue Springs, MO to handle a roof coating, look no further than Blue Rain Roofing & Restoration. We offer exceptional roof restoration services at great prices. To set up a free roof inspection, give our team a call today at (816) 358-7663.