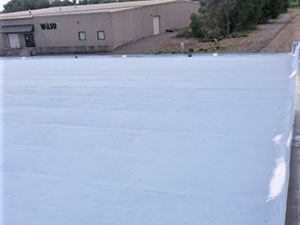 Do you own or manage a property in Independence, MO or the surrounding areas? If so, you likely know the roof atop your building is one that gets tested season after season. At Blue Rain Roofing, we're here to help you have the confidence you deserve knowing your roof can pass those tests without question! We bring building owners, property managers, and more trusted roofing services and solutions that will allow you the opportunity to get the most from your roof and investment. One of our most popular commercial roofing services continues to be our roof coatings which are also known as roof restorations. If you haven't heard of a roof coating before, reach out to our team today at (816) 358 – 7663. We'll make sure you know all the incredible advantages they have to offer, and we'll gladly provide you with a free estimate for having a fresh roof coating applied to your building's roof!
A Fresh Coat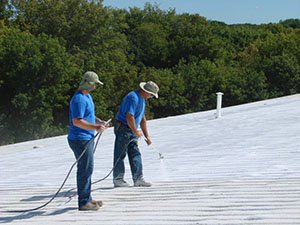 Roof coatings are a great thing to have applied to your roof before our harshest seasons. Our winter and summer seasons tend to have us questioning the true integrity of your roof and if you have a fresh roof coating applied beforehand, you can rest easy knowing your roof can once again deliver the watertight protection it was intended to. Who wouldn't want a fresh coat before the wettest seasons of the year? If it were raining or snowing, you'd make sure you put on your coat before headed outside, make sure your roof has the same great protection you would! Blue Rain Roofing delivers flawless roof coating applications for all types of commercial roofing systems and after a thorough inspection, we can let you know if yours could benefit from a new coat!
Call Today
Don't let a roof in need overwhelm you, an aging roof can often be restored with a high-quality roof coating and at Blue Rain Roofing, we're specialists in this area of commercial roofing! While we excel in all areas and aspects of commercial roofing, our roof coating services continue to impress and we're here to make sure you know the many benefits they have to offer! Find out if a roof coating can help extend the life of your roof in Independence, MO, call our team today at (816) 358 – 7663.