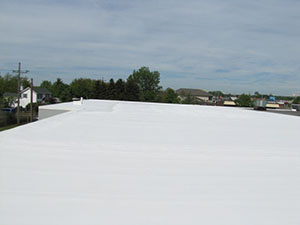 If you're a building owner or property manager in Overland Park, KS and you're wondering if you have more options to restore your commercial roof before dealing with a complete replacement, we have great news for you! With Blue Rain Roofing, there's a good chance that you can get years extra from your current roof with a restorative roof coating, also known as a roof restoration. We are proud to bring the area a complete list of affordable solutions and services that will help you to get the most from your roof, after all, it was designed to last for decades and we'll help make sure it can! A faulty roof system can put yourself and everyone in your building at risk, why wonder if your roof can keep things protected properly? Call Blue Rain Roofing today to schedule an inspection and find out if your roof is a good candidate for a roof coating! Reach out today at (816) 358 – 7663 and we'll make sure your roof can get what it needs.
A Summer Coat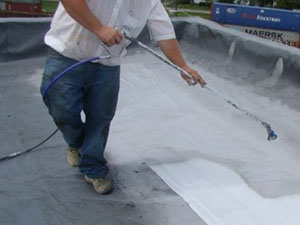 While a roof coating is a great roofing service to have completed any time of year, it's an especially popular service to have performed before the summer and storm season as they offer watertight protection you can count on. Roof coatings offer extensive benefits and are an incredibly cost-effective option, in fact, because of their reflectivity, they can help to lower your utility costs as well! At Blue Rain Roofing, we work to repair and restore our customers roofs whenever possible, and our roof coatings help this happen time and time again. To the same point, we will never recommend having you invest in a failing roof. For honest answers and roofing solutions, choose Blue Rain Roofing!
Call Today
If your roof seems like it could use a little TLC to keep things protected properly, a roof coating just might be the perfect solution! With a restorative roof coating from the professionals at Blue Rain Roofing, you'll be able to rest easy knowing your roof can provide you watertight protection all summer long. With a durable roof coating application, your roof will be able to perform like new once again, giving you a few extra years of life from it. For a free estimate for service in the Overland Park, KS area, call today at (816) 358 – 7663.