Winter is just weeks away and that means we could see the snow fall anytime here in Raymore, MO. Don't be fooled by the dry spell we're in, make sure your building's roof is ready to keep things dry and protected all winter long! At Blue Rain Roofing, we have a long list of commercial roofing services and solutions available and one of our most popular options this time of year continues to be our roof coating services. A simple roof coating application from a team of professionals can help your roof have the watertight protection it needs. Learn more today, reach out to us at (816) 358 – 7663 and we'll make sure you can trust in your roof during any Missouri season!
All About the Value of a Roof Coating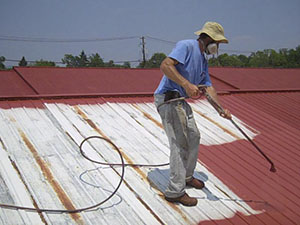 If you haven't heard of a roof coating, or roof restoration before, or if you haven't heard of the incredible benefits they offer, there's no better time to inquire about them! Roof coatings have been around for decades and the seamless, watertight protection they offer continues to impress. At a fraction of the cost of a roof replacement, you can receive many of the same advantages a new roof has to offer! We use the finest roof coating products around and when our expert roofers are applying your coating, you can be sure things will be done flawlessly from the moment you trust your roof to us. Here in our great state, roof coatings do a great job at helping to lower your utility costs as they can bounce back up to 85% of the sun's UV rays. Get the most from your roof year after year, learn more about your roof coating options today!
Call the Experts
If you think a roof coating could help your roof succeed with confidence all winter long, call our team today at (816) 358 – 7663. We have a team of roofers that is here to help your roof have long term success in Raymore, MO and we're sure we've got the solutions your roof needs! Blue Rain Roofing is always at the ready to help, get honest roofing solutions anytime you call on us!