When your home needs a new roof installed, making sure that you hire a dependable roofing company for the project is super important. With Blue Rain Roofing, your new roof will be installed correctly, meaning you won't need to worry about the costly ramifications of poor craftsmanship. For first class roof installation in Merriam, KS, give us a call at (816) 358-7663.
Exceptional Craftsmanship

The roofers at Blue Rain Roofing have shown over and over again their ability to install roofs that last. This is because of our team's high-quality craftsmanship and dedication to providing mistake-free work! With our roofing specialists handling your home's new roof installation, it will be installed perfectly!
It takes a lot of time to gain the experience that is needed to be a reliable roofing contractor. At Blue Rain Roofing, each of our craftsmen have been trained by seasoned professionals. They learned how to roof the right way and continue to show that they are some of the most reliable roofing specialists in the state! If you need a dependable team for new roof installation, just give our company a call today!
Maintaining A New Roof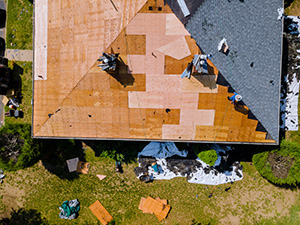 Once your new roof has been installed, effort should be made to keep that roof maintained correctly. The team at Blue Rain Roofing is able to maintain residential roofs through regular roof inspections and custom maintenance plans. We will help your roof in any way that it needs which will allow you to get more out of your investment!
About Our Company
Blue Rain Roofing employs talented craftsmen who are dedicated to delivering exceptional roofing services for the people of Kansas. On top of superb craftsmanship, you can expect quality customer service and timely project completion from our reputable roofing specialists. Our team can provide any sort of roofing service, so just call us for an estimate on the project!
Call Us Today!
The roofing specialists at Blue Rain Roofing will continue to show that they can be depended on for any type of residential roofing service. If you are in Merriam, KS, get in touch with our experts at Blue Rain Roofing at (816) 358-7663. We can get you a free estimate on a new roof installation.