Do you have a home in Merriam, KS with a leaking roof? If you want a roof repair that holds up for the long-term, go with Blue Rain Roofing. We are known for our exceptional craftsmanship and timeliness. To get our experienced roofing technicians over to fix up your roof, call us at (816) 358-7663.
Roof Leak Detection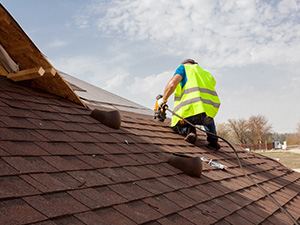 A lot of roofers do not notice roof leaks during a roof inspection. They may find a leak and assume it is the cause of all your roof's issues, and therefore miss another leak. At Blue Rain Roofing, our roof inspections are thorough, and our roofing specialists provide first-rate roof leak detection services so that we repair roofs correctly on the first attempt!
Experienced Craftsmen
At Blue Rain Roofing, we have an impressive group of roofing specialists. We look for guys who are professionally trained, dedicated, and have many years of experience. Our team works well together to complete roofing projects the right way, and quickly! Our versatile roofers can figure out a cost-effective solution to any sort of roof issue.
Maintaining A Roof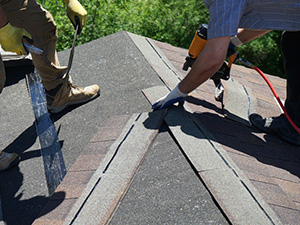 There is a lot of variance when it comes to the longevity of a roof. Many factors play into how long a roof lasts before it has to be replaced. These factors include the quality of the roofing company that installed it, the type of roof it is, weather, and environment. To get more value out of your roof, look to the experts at Blue Rain Roofing for regular roof maintenance.
Other Services
You can depend on Blue Rain Roofing for a lot more than just roof repairs. We also do roof replacements, gutters, siding, and much more. It begins with you giving us a call so that we can swing by to see the condition of your home. After we inspect your roof, we'll let you know what it needs and give you an estimate on the project.
Call Us Today!
Time to set up a roof repair for your home's roof? If you are in Merriam, KS, there really is no better choice than Blue Rain Roofing. We will do all that we can to ensure that your roof gets the repair it needs to stay leak-free for years. To start, schedule a roof inspection just by calling us at (816) 358-7663.