Do you have a house in Merriam, KS that is ready for a new roof? Blue Rain Roofing will provide a flawless roof replacement at a great price. To get an estimate on the project, call us at (816) 358-7663.
Maintaining A New Roof

Once your old roof has been replaced, it's important that your home's new roof is maintained. With inspections and roof maintenance from the experts at Blue Rain Roofing, your home won't need a new roof again for a very long time! Our maintenance services help prevent major roof issues from developing.
Quality Craftsmanship
At Blue Rain Roofing, the quality of our craftsmanship means everything to us. We prioritize quality over quantity, making sure that each roof that we work on receives exactly what it needs. Our roofing specialists are licensed, insured, and have been solving all types of roof problems for many years now! The people of Kansas can depend on our team for flawless roof installation.
Timely Project Completion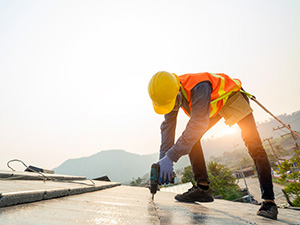 Roof replacements take a lot of labor. Having people work on your home can be a nuisance, which is why we work efficiently to complete projects of this magnitude. We are great at predicting how long a roofing project will take us to complete so that you can plan accordingly. Our craftsmen are always careful, and our company has a great safety record!
Why Blue Rain Roofing?
There are a lot of companies and contractors that are ready to throw their names in the hat when someone says that need a roof replaced. While they may offer a great price, a lot of them do not provide the best quality work. Even if you get a low estimate, you can wind up spending a lot more in the future if they do not get the job done correctly. To ensure that the job is completed correctly, go with Blue Rain Roofing!
Call Us Today!
To set up a roof replacement from reliable craftsmen, call Blue Rain Roofing at (816) 358-7663. We are the lead option for those in Merriam, KS. Our experienced roofing technicians will have your home's new roof installed the right way, which means decades of protection!