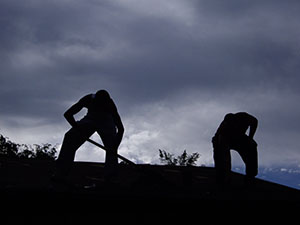 Finding a roofer doesn't need to be a chore, while it is important to do a bit of research to make sure you're hiring a trusted team of professionals, Blue Rain Roofing makes it easy as we're an open book with a long list of customer referrals. Putting our customers and their roofs at the forefront every time is the only way we do business, we know that when you have a roof in need, it can be stressful and that's why we deliver timely roofing solutions to all our customers in Independence, MO and the surrounding areas. As a full-service roofing company, we also have 24/7 emergency roofing services available. This means we've got you covered anytime of day or night and we'll work quickly and effectively to get any damage on your roof secured right away. Call our team at (816) 358 – 7663 and schedule a professional inspection with us today!
Long Term Solutions

At Blue Rain Roofing, we are well aware that your home's roof was designed to protect your home for decades. A long life for your roof starts with the installation and our team is proud to deliver flawless roof installations and replacements that will help start your roof off on the right path. Once installed, we will make sure you know how to help keep it in prime condition throughout its long life. We have maintenance plans available that can help keep you worry free while maintaining a top-notch roof above your home. Keeping your home's roof inspected and maintained each year can help keep your costs low while allowing our roofers to make sure it stays in the finest shape possible. Protect what matters most with confidence, Blue Rain Roofing is ready to work for you!
Reach Out Today
When you need a new roofer to handle the needs of your home's roof, whether it's a tricky leak that needs resolved or if you need your old roof replaced, we've always got you covered. As a full-service roofing company serving homeowners and more in Independence, MO, Blue Rain Roofing brings the solutions your roof needs to last. Reach out today at (816) 358 – 7663.