There are a lot of factors that come into play when talking about concerns of your home's roof and at Blue Rain Roofing, we handle them all! As a full-service roofing company, we work with all types of residential roofing systems and we have a complete list of residential roofing services available to help you protect the asset above your home that keeps you and your family protected! Work with a roofer that will always be here to keep things protected with confidence, call Blue Rain Roofing today at (816) 358 – 7663. We're proud to help our neighbors throughout Prairie Village, KS have a trusted roof atop their homes at all times, if you have any concerns about your roof's condition, just give our office a call!
More Than a Roof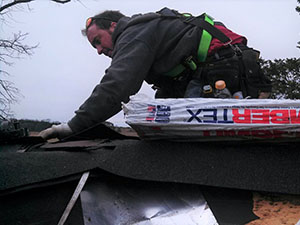 At Blue Rain Roofing, we believe our job involves so much more than fixing roofs. We build relationships with our customers and we know there is always more than just a roof involved. Your home's roof plays a vital role in the protection of your home and family and if it is unable to keep things protected with confidence, there could be a lot at risk! Our customers continue to put their trust in us because they know every roofer on our team is dedicated to delivering first class customer service and craftsmanship. When you call on us, you'll be more than a name and number, we'll treat you like family and we'll always work on your roof exactly as we would our own. Know you have a roof ready to get the job done without question when you're working with the team at Blue Rain Roofing!
Reach Out Today
Need a new roofer to handle your home's roofing needs in Prairie Village, KS? Blue Rain Roofing does it all for homeowners throughout the area and our full list of roofing services is sure to help keep your home's roof in peak performing condition, no matter the season! With spring just around the corner, now is a great time to start thinking about a roof inspection so you can know the stormy summer season is no match for your home's roof! Reach out today at (816) 358 – 7663.