To be able to get the maximum out of the roof sitting atop your home, you must properly maintain it and that means getting it treated with top-quality roofing services. With so many roofing contractors in Kansas, choosing the right one for your needs can be a daunting task. Fortunately for you, if you reside in Shawnee, KS, then you can count on Blue Rain Roofing & Restoration for all sorts of residential roofing services. Our roofing specialists have years of experience in tending to various roofing issues and they can set your roof up for longevity in no time. Reach out to us today at (816) 358 – 7663 to learn more!
Services You Can Depend On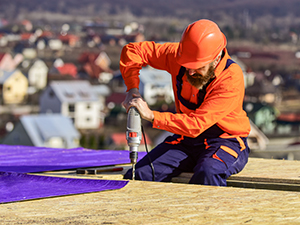 As a full-service roofing contractor, Blue Rain Roofing & Restoration offers you just about any service that you may need. From an all-encompassing inspection to a full-fledged replacement and everything in between, we have got you covered.
In every single one of our services, our expert craftsmen bring world-class craftsmanship to the table. They also utilize only premium roofing materials so that the work that is being carried out on your roof lasts for a lifetime.
Custom-tailored Solutions

There are plenty of roofing contractors who can offer you the same roofing services as Blue Rain Roofing & Restoration. However, what sets us apart is our state-of-the-art, custom-tailored solutions. Before starting off your roofing project, our roofing technicians run a thorough diagnosis of your roof and talk to you about your budget, preferences, and needs. Once they are through with evaluating your roof, they come up with a custom-tailored solution whose details are handed to you in the form of a no-obligation estimate.
As soon as you give us a go-ahead, our roofers will commence the job. Throughout the job, they will continue to keep your best interests in their minds so that you get exactly what you need!
Reach Out Today!
On the lookout for a trustworthy and honest residential roofing contractor in Shawnee, KS? Well, you have come to just the right place. Blue Rain Roofing & Restoration houses a crew consisting of highly professional and trained roofers who can tackle whatever problem your home's roof may present. Call us at (816) 358 – 7663 to set up a meeting with our roofers!