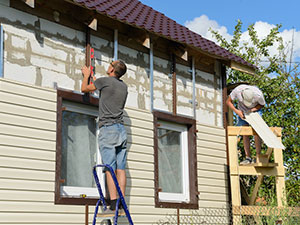 For the fortification of your home and the safety of your family, the siding of your property plays a crucial part. Since your home's siding will be taking on all forms of weather hazards throughout the year, it needs to be in its absolute best condition. Furthermore, a great proportion of the aesthetic appeal of your home comes from the style and color of its siding. There is an array of siding options available. Fret not, however, as the craftsmen of Blue Rain Roofing & Restoration are here to guide you as to which option is compatible with your interests and budget. If you are a homeowner in Raytown, MO, or the surrounding region, just give us a call at (816) 358-7663 and we will be on hand to serve you!
Providing Complete Siding Services
There are all kinds of siding services you could need as a homeowner. For instance, you could be looking to have new siding installed on your under-construction property, or if you already have a home, you could be looking to have its old, worn-out siding repaired or replaced. Whatever it happens to be, the expert technicians of Blue Rain Roofing & Restoration have got you covered. They have the capacity to handle just about any siding service with utter skill and finesse. For more details, we are just a phone call away!
Affordable Prices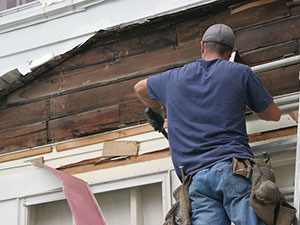 While our experts are renowned across the state of Missouri for their unmatched craftsmanship, we feel that another very important aspect of their job, that is quite underrated, is their affordable fees. Besides charging very reasonable rates for their workmanship, they ensure that premium materials are supplied for your siding project at the most competitive prices in the market!
Get In Touch Today!
Are you in search of top-ranked siding contractors in Raytown, MO? Well, you have come to just the right place. The professional siding contractors, housed by Blue Rain Roofing & Restoration, have been providing siding services to the homeowners of Missouri for multiple years now, and they will be glad to serve you as well. Call them today at (816) 358-7663!